I'm currently hiking and camping in New Mexico and Utah, which explains this off-topic post. I'll continue to cover big news when I'm able to access email, and will also upload and time-phase these entries for posting when I come into town for gas and supplies. To find more of this type of writing based on past trips, look to the folder link at left titled Not Here but There: A Wilderness Journal.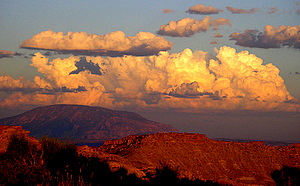 Summer is the time of storms in the deserts of much of the Southwest, just as it is the time of intense heat. Except for its mountainous areas, the Southwest receives most of its meager precipitation in this way. The weather systems that form the thunderstorms of summer are thus vital to the cycle of desert life, and were they ever to fail, so, too, would most of what lives in these dry regions.
There are two essential elements to the weather system that produces these storms. The first is the uneven heating of the desert surface by the sun, which creates variable updrafts that can rise high into the sky. And the second is a summer wind pattern that regularly carries moist air from the Gulf of Mexico into the Southwest – the technically accurate, but rather misleading name given to this element is the "Southwest Monsoon."
When desert updrafts meet this moist Gulf air, they carry it skyward into cooler altitudes, where the moisture condenses into white, decorative cumulus clouds reminiscent of cauliflowers. If the air is sufficiently moist, the clouds can grow in height, becoming "towering cumulus" clouds. And if the updraft is strong, the air more saturated with moisture, and the differential in temperature between warm updraft and cool upper air sufficiently great, then you have all of the necessary elements to create a cumulonimbus cloud - also known as a potential thunderstorm.