Our story so far:  Security expert Frank Adversego has been passed over to lead a major project at the Library of Congress, but discovers that the Library has been hacked by a mysterious cracker with motives unknown; now, Frank learns that he may be coming under suspicion (the first chapter is here). Better yet, why not buy the extensively rewritten final version in eBook (for just $2.99) and print versions at all the usual outlets (find the links here).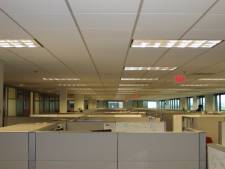 Monday morning Frank arrived at work early.  He scooped up the office copies of the daily newspapers from the pavement outside the staff door of the Library of Congress and noticed that the Washington Times was missing.  No need to wonder who arrived first today – that would be Rick - the only employee that wouldn't bother to bring in a paper for anyone other than himself.

Sure enough, as Frank strode up the half-lit corridor in Cube City, there was Rick standing next to his cubicle, coffee cup in hand.  His face lit up as soon as he saw Frank.  "Morning, Frank," he called out.  "Recovered from your big Saturday night yet?"  He raised his coffee cup in a mock toast and leaned casually against his cube so Frank could barely squeeze past. 

But to Rick's surprise, Frank gave him a hearty welcome as he wedged past.  "Great to see you, Rick, 'ole fella!  Only 70 more security-filled days till February 28, huh?"  Frank smiled as he sauntered down the aisle to the sound of coffee spraying from Rick's mouth.  Frank wondered just how long it would be before Rick showed up, shamefaced, to ask for help.  A week at most, he thought.