New to The Alexandria Project? Find a plot synopsis and guide to the characters here, find the earlier chapters here, and follow the Further Adventures of Frank on Twitter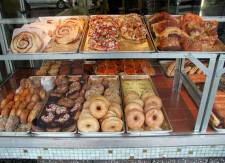 George Marchand was not at his desk at the Library of Congress. Instead, he was ordering a mixed selection of donuts at The Bakers Dozen, a coffee shop in a small town outside the Beltway. Paying for his purchase, he asked the teenager if they had a restroom. "In the back," she said, counting out his change without looking up.
George strolled to the rear of the shop and opened the door in the rear wall of the seating area. He ignored the two restroom entrances on the other side, and instead unlocked the unmarked door to their right. Closing it behind him, he found a flight of stairs leading to another door, this time without either a keyhole or a doorknob.
When he arrived at the top, George slid his fingers along the door trim on the right until he found a recessed area. Pushing against it, he felt the trim unlatch, and he swung it open on its hidden hinges to expose a numerical keypad. After punching in a seven number sequence, the door swung open to reveal a modest sized room containing nothing but a conference room with chairs, and a series of doors set into its walls. Sitting around the table were three men about his own age.
"How come I always have to buy the donuts?" George asked as he walked in, pushing the door closed behind him.