Last Monday I reposted an entry with a Darwinian theme from the beginnining of the last U.S. presidential campaign. Here's one from the end.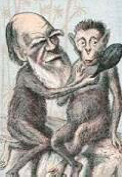 Praises be, it's over — over and done with — finis — no longer plaguing us and finished. I refer, of course, to that quadrennial paroxysm of democratic hysteria we prosaically call a "Presidential Election." Thank God.
Along the way, we heard enough lies, damn lies and Super PAC ads to last us for the rest of our lives, and then some. And early in the process, it seemed like we were living in the middle of the next installment of Men in Black, except that none of the primary candidates went back to their home planets after they were defeated.
At the heart of all this nonsense, though, there is a central reality that never ceases to amaze me: how is it that so many Americans can disagree so fundamentally with each other about so much, each convinced that he or she is possessed of the equivalent of divinely revealed truth while those on The Other Side are possessed by the Devil, or worse?