What follows is the the first draft of my first cybersecurity thriller, The Alexandria Project. You can buy the final, and much revised eBook and printed versions, here and at all of the other usual on-line outlets.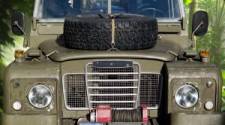 Frank Sr. swung his ancient Land Rover back onto the highway, a server humming in the back and Frank Jr. tapping away in the front on his laptop. Power and connector cables passed between the two seats.
"I've only got an AirCard to work, but if we're lucky I'll have Foomjoy's entire hard drive replicated by the time we cross the Mississippi. I've already got the CIA's list of hacked sites from the CIA, so let's see what that shows."
Frank pored over the data as they drove eastward into the night. There seemed to be no order or pattern to the 492 sites that had been attacked to date. Every type of host had been hit - newspapers, universities, retailers, government sites, non-profits – you name it. After the first few high profile targets, the most obvious conclusion seemed to be that the hits had been chosen at random.