Welcome to the sequel to The Alexandria Project, a cybersecurity thriller. If you'd like to read the book this series is based on, you can read the first three chapters for free here.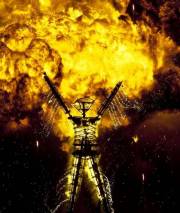 It was early afternoon when Frank and Josette rolled slowly into Gerlach, following a 1960's era VW minibus. Behind them was something that resembled a cross between a Viking long ship and a Mississippi river boat. ("Ah! An Art Car!" Josette exclaimed.)
They hadn't expected to find much in Gerlach, since Josette had already looked the hamlet up on the Internet. A typical description read:
Welcome to Gerlach, Nevada (pop. 450). In this thriving metropolis you will find one elementary school, one high school, one post office, one propane distributor, one gas station, one motel, 3 bars and that's it.