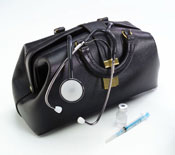 In the last issue of my eJournal, Standards Today, titled A Standards Agenda for the Obama Administration, I described the standards-based dependencies of the technology agenda earlier announced by president-elect Obama. That agenda provides for the creative use of technology to advance a number of important policy goals, such as achieving transparent government, equal access to the Internet, and reducing costs of healthcare. In this issue, I focus more closely on the significant role that standards will play in achieving one of (now) President Obama's greatest challenges — lowering healthcare costs, while at the same time keeping a campaign promise to provide universal health coverage.

As these words are being written, the US Congress is debating the final terms of a stimulus bill that will result in the expenditure of almost $800 billion of public funds on a wide array of initiatives intended to address an equally challenging goal: resurrecting an economy that seems inexorably headed towards its worst performance since the Great Depression. One of those initiatives included in the stimulus bill would make the final push towards national implementation of something called "Electronic Health Records," or "EHRs" - and spend $20 billion in the process. Whether that money gets spend wisely or not will depend a lot on open standards.
EHRs are digitized patient records that capture a patient's medical history, treatment and other data in real time, making it available to authorized care givers and researchers, insurers, and the patient herself. EHRs are devilishly complex to design, because they must satisfy an almost impossible set of competing requirements.
The benefits promised by EHRs include dramatic reductions in healthcare costs, fewer medical errors, higher quality medical care, and more productive research results in the health sciences. But the up-front costs of deploying such a system on a national basis are dramatic as well. It is estimated that the expenditure of well over one hundred billion of dollars will be required over the next five years.
Due to the great benefits and enormous costs of this effort, it would be really great if it all worked, after it was deployed and paid for, and that's what this issue is all about.
All of which is why my most recent issue of Standards Today is dedicated to EHR standards, and is titled The Electronic Health Records Standards Challenge. Here's what you can find in that issue:

In my Editorial, Getting EHR Standards Right (posted last week here as well), I expand on the challenge, and the importance of not rushing headlong into implementation before fine tuning the standards that will make or break the success of EHRs. In the Feature Article, A Guide to Electronic Healthcare Record Standards and the Challenges Ahead, I review the history of EHR development to date, describe the many significant challenges to designing effective EHRs, survey the organizations developing EHRS, provide a timeline of significant government action, and finally provide recommendations regarding the remaining steps that need to be taken before actual deployment begins, in order to ensure that the great promise of ubiquitous EHR deployment is achieved.
Next, I'm very pleased to provide a lengthy Interview with Dr. Charles Jaffe, the Executive Director of Health Level 7 (HL7), one of the oldest standards development organizations creating EHR standards. HL7 standards are a cornerstone of all EHR frameworks in development and use today, and Chuck's perspective on what still needs to be done is a must read for those interested in what lies ahead. The interview is appropriately titled View from the Trenches: an Interview with HL7's Charles Jaffe, M.D., and it is a sobering read.
This issue's Standards Blog returns to an topic that I have followed and supported for over five years: the ongoing litigation involving Rambus Incorporated, a company that has by turns been successful and unsuccessful in avoiding liability for allegedly "gaming" the standards development process for its own profit. I have filed numerous pro bono "friend of the court" briefs involving Rambus in the past in defense of the integrity of the standards development process, and in December of last year I did so once again: this time with the Supreme Court. The title of the blog entry indicates the breadth of the support I was able to gather in this endeavor: 19 Standards Organizations Support Rambus Brief.
For my Consider This essay, I return to the healthcare theme, and point out that there is more to the patient than digitized data alone. The piece is entitled Standards of (Patient) Care.
I close this issue with a piece from my Monday Witness series, which focuses on the ethical and moral, rather than the technical, standards of the day. It is entitled Inauguration Day — January 20, 2009. In it, I reflect on inaugural addresses past and present, and look forward with guarded optimism to the next four years.
As always, I hope you enjoy this issue. But whether you do or don't, it's always good to hear from you. You can reach me at updegrove@consortiuminfo.org.
For further blog entries on Standards and Society, click here