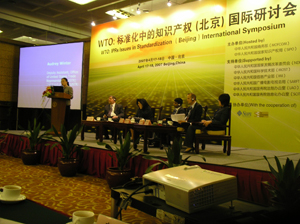 I'm speaking at a couple of conferences in Beijing, the first of which is called WTO and IPR's: Issues in Standardization, convened by the Chinese Ministry of Commerce, China's State Intellectual Property Office (SIPO) and Sun Microsystems, and supported by a half dozen other Chinese Ministries, Councils and Commissions. One of the keynote speakers today was Scott McNealy, the Chairman of both Sun Microsystems and Sun Federal, Inc., Sun's government sales arm.
The overall focus of the conference is intellectual property rights (the IPRs in the conference title), a topic of more than usually current interest, given that the US brought a formal complaint against China before the World Trade Organization (the WTO in the conference title) last week, charging China with inadequate efforts to police infringement of IPR. Only a few days thereafter, China enacted laws that would decrease by half the number of copies of pirated content that would constitute "serious" (from 1,000 down to 500), and from "very serious" (from 5,000 to 2,500), and more significantly, dramatically increase the penalties for doing so. Presumably each side was aware of the other's intended actions, so the new Chinese legislation is likely intended more as a public refutation of US charges rather than a concession likely to take the complaint off the WTO's table.
But the conference is also timely in that McNealy took a meaningful amount of time during his presentation to note that there are (in his words) three main document formats in existence today: Microsoft Office, Open Document Format (ODF) and China's Uniform Office Format (UOF). And he also called for the last two to be merged.
What is significant about his statement is not the sentiment, as a harmonization or merger of the two formats has been a topic of conversation and speculation for some time. OASIS, for example, chartered a working group some months ago to explore with the Chinese how the two formats might be brought closer. But until now, ODF proponents have been shy about placing any pressure on the Chinese to take any such action, not unlike someone who very much wants to be asked on a date, but is afraid to scare off the object of affection by being too forward.
The same call for merger was made even more forcefully later in the day, when Crawford Beveridge, Executive Vice President and Chairman, Sun, EMEA APAC and the Americas spoke. Perhaps further mention will be made by another speaker tomorrow. If so, I'll need to learn second hand, as I'll be speaking at a UN Asia-Pacific development program conference then.
Why the call for harmonization or merger would be made here is not difficult to guess. For Sun's Chairman to travel all the way to China to deliver the message is clearly good diplomacy. One might wonder, though, why now? Perhaps the comfort level and discussions between the two sides relating to a technical détente may have risen to the level where the timing is right. Or perhaps Sun wants to add one more element of momentum behind the advance of ODF while OOXML is under review in ISO, if the Chinese are receptive to the invitation.
Will they be? Presumably McNealy would not have extended the invitation if he did not expect it to be welcomed. Whether, and how, it may be accepted, however, will have a lot to do with exactly how a reconciliation of the two formats might be achieved. At one level, ODF and UOF could be harmonized in such a way that implementations of each could natively (rather than through plugins) save documents in the other format. And at the highest level, the specifications for the two formats could actually be merged into one, which I'm told would be possible. Which approach (if either) is actually taken may have a lot to do with China's overall strategy, which for the last several years has been oriented towards developing "home grown" standards in areas where high foreign royalty payments, or product prices, would otherwise be encountered. These standards have most notably been in the area of wireless (WAPI), video (AVS), and 3G telephones (TD-SCMA), with other standards on the way.
For China to give up independence with UOF would run counter to this trend, and would provide a very interesting bellwether indeed regarding China's future standards strategy. To provide for the two standards to coexist in a way (through harmonization) that would add power to each would make good sense by any strategy. But to actually merge the standards would be evidence of a braver and more sophisticated strategy that would be more focused on achieving the end result through international collaboration, rather than simply through the unilateral exercise of its independent – and very substantial – domestic market power.
I, for one, will be waiting with great interest to see whether McNealy's invitation is accepted, and if so, through which of the two technical approaches available.
For further blog entries on ODF and OOXML, click here
subscribe to the free Consortium Standards Bulletin