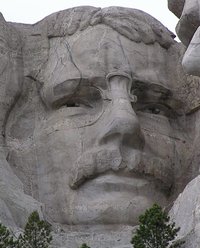 Man's ability to affect the land is all too evident in these times of climate change, pollution and habitat destruction. Happily, the landscape can change man as well.
The weather finally broke last night, dropping 30 degrees by dawn, and thanks be for that. The night before I had camped in the Sheyenne National Grasslands, heavy with heat and humidity. But the next day it was pleasantly cool (upper 60s), albeit overcast rather than sunny.
Nor was this the only change. It took over 2400 driving miles to finally leave the Eastern, and then Midwestern terrain behind, but today I reached the beginnings of what I think of as the West. More than anything else, in my mind that means "dry." For the last 800 miles, the landscape had been primarily flat, lush - and transitionally post-glacial. That last factor means an area where the great ice sheets completed their periodic southward pulses, dumping rich, black earth born of thousands of miles of ice grinding down stone, some deposited by glacial steams, and other as windblown "loess" – very fine mineral particles.
It also means that remnants of ice shrank in ever-decreasing diameter, ending finally small, shallow ponds, each rimmed with the ice-born stone and dirt that slid off of their sides as their diameters decreased in dimension. The result of this glacial activity is a well watered, barely rolling, rich and fertile landscape striped by cottonwood windbreaks and random groves of trees, and punctuated by millions of these "kettle," or pothole, ponds, each rimmed with brilliant, emerald-green reed boundaries, and always speckled in an attractive fashion with a tasteful number of ducks.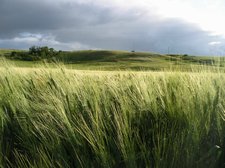 Not so many of these kettle ponds exist as before, nor of the winding sloughs thick with reeds that thread between the deposits of glacial till. Millions of them have been filled and drained by generations of farmers, often with government financial support. The results of this eradication of valuable wetlands are not hard to see: where there isn't water, there are great fields of corn, soybeans, sunflowers and hay.
Now, though, that lush landscape was being left behind. The transition point was Bismarck, North Dakota, or more properly, since this is a matter of geoclimactic rather than cosmopolitan change, at the Missouri River, which flows gently through North Dakota on a north by north east course until it reaches Bismarck, and then arcs gradually westward until it exits into Montana on a due west track.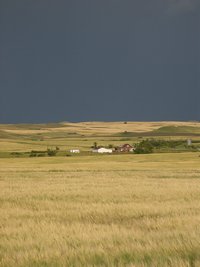 Once I crossed the Missouri, there was a rapid and noticeable transition, with the windbreaks and groves of cottonwoods becoming rapidly more rare, and the corn and soybeans giving up share to sunflowers short, drought-tolerant grains. The percentage of planted fields also lessened, as did those growing up in hay. Not long after, you could sometimes sweep the horizon and find no tilled fields at all. Just the naturally growing (and invasive) species that make up the third of the prairie zones: the short grass prairie.
The terrain changed as well. Short, eroded cinder cones sometimes spiked up, remnants of geologically recent volcanic activity, and overall, there was a more varied reach and rise of land, extending off into the distance like great sweeping swells on the ocean, covered with range grasses close-cropped by cattle and, now, also occasionally dotted with sage brush.
My objective this morning was a national park distinguished by the marvelous, multi-colored, crenellated ridges of badlands that you can find in western North Dakota. They provide a stunning impressionist range of pale white, salmon, mint-green, and dark green colors and shapes that would caused Cezanne to hyperventilate in anticipation. The overall effect is at once lively and soothing, welcoming and wild.

This landscape also captured Theodore Roosevelt's heart, in 1884, when he fled West to recover from the loss, on the same day, of both his wife and his mother. At the age of 24, he had been married for only two years, and a father for less than a week. He escaped, grief-stricken, to North Dakota, leaving his infant daughter and his emerging political career behind, to find clean horizons and empty spaces, and to hunt buffalo. He liked what he saw, and bought into one ranch (the Maltese Cross) with two partners. The next year, he spent part of his new inheritance on a second rangeland, which he named the Elkhorn Ranch. There he soon built a house, where he would spend much of his time over the next several years.
The ever energetic and imaginative Roosevelt relished his new-found life as a rancher – not to mention the frontier romance of it all. He played it up for all he was worth, spending heavily on custom made, beaded buckskin shirts, and sported a silver sheath knife at his belt (from Tiffany's, no less) – the prototypical Dude. While his hired managers minded the details, he could choose his daily tasks as the whim took him – riding with the cowboys that tended his cattle, or shooting meat for the table. At the end of the day, as he noted in his journals, the rancher could read on the veranda in his rocking chair, or relax on the floor, reclining on elk and wolf hides before his great fireplace.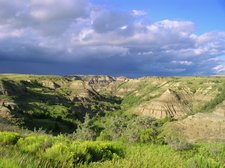 But the lure of national politics was too strong, and the life of a gentleman rancher did not provide the stimulation of the great challenges that he would pursue throughout his life. Nor could the broad vistas of the prairie match the panorama of the world stage. For the next several years, he divided his time between the pleasures of the out of doors and the hunt, and the equally primal struggles to be found in the hallways and cloakrooms of the political process.
Not so many years after he bought his ranches, Roosevelt's annual visits to theDakotas ceased. His ranching endeavors had not been successful financially, either. A hard winter killed most of his cattle, and he sold off the rest rather than rebuild the herd. Soon, he sold off his properties, piece by piece, losing most of his substantial investment in the process. Within a few years thereafter, his romantic Elkhorn ranch house had been stripped of everything valuable. By the early 1900s, nothing remained but parts of its foundations. Today, you can reach the site only by gravel roads and, finally, on foot.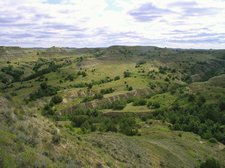 But Roosevelt's affection for the North Dakota prairie and badlands never flagged. "I never would have become president," he later wrote, had he not had his experiences on the western plains.
One way in which those experiences shaped his future (and our own) was to impress upon him how civilization was already destroying the natural environment. TR would go on to become one the greatest, and most effective conservationists of his time, and indeed, any time. He set aside millions of acres of lands for national parks and forests. He also signed into law the Antiquities Act of 1906, which initially allowed a president to take unilateral action to protect unique, endangered public lands in eligible categories as "National Monuments" (Congress not must ratify such actions). Much of what we cherish today as part of our national heritage was preserved by TR, or made possible as a result of his foresight and determination.
That legacy lives on in the names of several areas of public land in the West, including the Theodore Roosevelt National Park, whose holdings anchor the 1,033,271 acres of the Little Missouri National Grassland in western North Dakota, where I'm camping as I write these words. Watching the play of light across the marvelously varied tones and contour of the landscape preserved in Roosevelt's honor, it's easy to see how the future president's troubled spirit could find here the solace it needed, and how his commitment to preserve the natural beauties of his country could have been forged as well.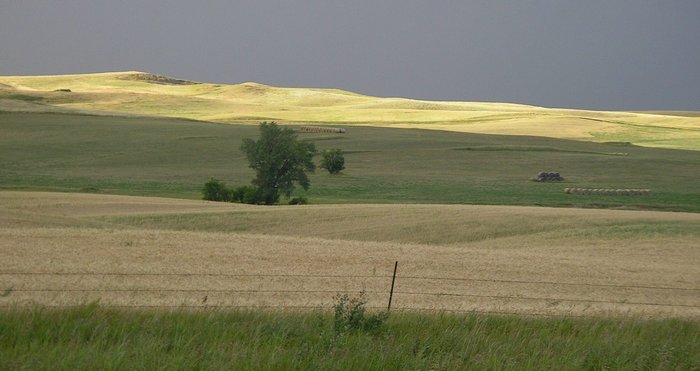 For further blog entries in Not Here but There: a Wilderness Journal, click here
get a free subscription to Standards Today