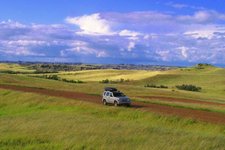 In 2001, I took a one month solo cross country trip, driving from Massachusetts across the Northeast, the Midwest, and then the prairie states, until I reached what we generally think of as "the West" – the land of canyons and buttes, deserts and mesas. Once there, I spent the rest of the time backpacking in the canyonlands of Utah, and then meandering North on dirt roads until I reached Glacier National Park, in the Northwest corner of Montana. After that, I zigzagged back East until I reached the Mississippi. Then, it was just a straight highway shot till I arrived back home once again. It was during that trip that I began writing in earnest, although I haven't (yet) posted anything from that journey to the Web.
It was a great trip in every way, although my return to reality was abrupt when the jets hit the TwinTowers two days after I returned to work. I've taken many similar, shorter, trips since then, renting a car at various starting points out West (you can read about many of those trips here). But they've never been quite the same as leaving my house behind and heading West, watching the forests fade into prairies until the mountains begin to rise up in the distance. I've always wanted to repeat that experience.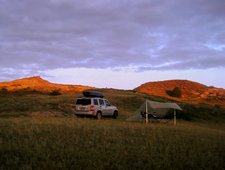 So that's what I've been doing for the last week (that, and struggling with a hacked Web site, but that's another story). Sad to say, this time I've had to split my time between working, driving and camping, so my writing on all topics has taken a back seat, until now. Now that I've crossed the Mississippi, though, I'm going to take the next two weeks off from work as much as possible, and hope to share on a regular basis some of the less familiar aspects of the West that you may have never seen, and perhaps never even heard of before.
I may backtrack later, but rather than further delay posting the account of this trip, I'll get started tomorrow, writing about some beautiful country I was in a few days ago: the badlands of Western North Dakota.
For further blog entries in the
Not Here but There: a Wilderness Journal series, click here
get a free subscription to Standards Today