From time to time I've run into people that have more than one blog, and have usually wondered how that came about, and also how it was working out? Often, I've noticed, one of the efforts ends up petering out, left abandoned and forlorn, with that one last, lonely post waiting hopefully for the next to come along, which it never comes. With each passing day, the blog becomes less visited, soon to be found only by random Web searchers that skip out as soon as they accidentally arrive. Poor Blogger. Poor blog.
And then it happened to me, too. For years I've been writing about lots of topics (see the index at left), but for the first five or six years, all of those areas of interest seemed able to co-exist happily under one virtual roof. But then I decided to try my hand at fiction, and then the bickering started. What about me?!? the factual topics would say, if neglected too long. And What about me? one half of the readers seemed to wondering, if I stayed too long in the wrong genre.

And so it came to the inevitable parting of the ways. Since the house had originally been owned by fiction, not surprisingly it was non-fiction that was forced to move out (to WordPress). Here's a bit more about how and why, and for those of you that read the fiction here as well, here's aslo a sampling of the non-fiction has been up to since it moved out.
The essential problem, of course, is one of branding. Consumers of anything like consistency and reliability, not surprises. If someone is an avowed carnivore, they want meat, while vegans don't even want to sit at the same table. And the last thing that a blogger interested in widely disseminating his or her wares (or any other provider of anything, for that matter) is to have their readers decide not to waste their time visiting anymore.

So the time came where instead of diluting the brand of this site, I had to bite the bullet, start a new site where I could build a new brand around my non-fiction writing, and preserve intact the non-fiction brand I've spent a decade building here.
But just because fiction has moved out doesn't mean that non-fiction readers can't have visiting privileges. So for those that feel inclined to sample what's going on across town, here are the intros for what I've posted at Tales of Adversego (Frank Adversego is the protaganist of my book, The Alexandria Project, you see), of course with links so you can read on as you wish. If you like what you see, why don't you keep up with both sides of the family, even if they're now living apart?
Review – Elixir: A History of Water and Humankind (Brian Fagan; 2011)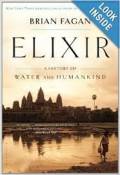 Brian Fagan is an astonishingly prolific producer, for a non-fiction writer, having produced more than three dozen research-based books (at the rate of more than one a year!) focusing mainly on the areas of archaeology, anthropology and the impact of climate change over the millenia on humanity. I've read at least a half a dozen of them, and he continues to pump them out faster than I've been knocking them off.
That's rather remarkable, given the fact that they are all intensively detailed, although this is somewhat less impressive when one notes that many of his books overlap in areas that doubtless lie in the sweet spot of his professional areas of expertise (several, for example, are dedicated to various aspects of the entry of humankind into the New World). Still, how does he do it?
Google Search Winners and Losers (and what does it mean for you?)

Are you one of those bloggers that always has a nagging thought in the back of her mind that goes something like this: "I really need to do something about optimizing my site so search engines can find it"? And are you also one that finds, when they do look into search engine optimization (SEO), that the whole process seems bewildering, laborious, and, well, dubious as well?
One after another, and then in bunches, like helmet tops of surfacing mermen, they came up in the outwash along the smooth wet sand.

What a great sentence. The kind you read and think, "I wish I'd written that." It's taken from a piece by Ian Frazier in the April 14 issue of the New Yorker titled Blue Bloods, which reflects on the current status of horseshoe crabs. And with that reveal, you can better appreciate the metaphorical gem at the heart of the sentence, describing a multitude of horseshoe crab shells inversely dimpling the surface of dark water lapping up on a full moon-lit beach in breeding season.
ODF vs. OOXML: War of the Words Chapter 5: Open Standards

One of the two articles of faith that Eric Kriss and Peter Quinn embraced in drafting their evolving Enterprise Technical Reference Model (ETRM) was this: products built to "open standards" are more desirable than those that aren't. Superficially, the concept made perfect sense – only buy products that you can mix and match. That way, you can take advantage of both price competition as well as a wide selection of alternative products from multiple vendors, each with its own value-adding features. And if things don't work out, well, you're not locked in, and can swap out the loser and shop for a winner.
ODF vs. OOXML: War of the Words Chapter 4 – Eric Kriss, Peter Quinn and the ETRM

By the end of December 2005, I had been blogging on ODF developments in Massachusetts for about four months, providing interviews, legal analysis and news as it happened. In those early days, not many bloggers were covering the ODF story, and email began to come my way from people that I had never met before, from as far away as Australia, and as near as the State House in Boston. Some began with, "This seems really important – what can I do to help?" Others contained important information that someone wanted to share, and that I was happy to receive.
Posted on March 30, 2014

I expect that the question I'm about to address is one that every self-published author has spent some tough moments grappling with at some point during their creative journey. If you haven't already guessed what that question is, here's a clue: another title for this post could have been "What's the Point?"
Review: The Species Seekers: Heroes, Fools, and the Mad Pursuit of Life on Earth (Richard Conniff)
Posted on March 28, 2014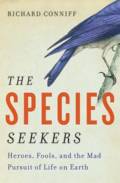 The Species Seekers is based upon two main themes. The first is that the people that became obsessed (or sought their fortunes) by discovering new species were a remarkably strange and interesting lot, and Conniff substantiaties this contention amply through the scores of fascinating sketches he provides throughout The Species Seekers. The second is that the stuffy academics that usually got the credit for new species (by being the first to describe them in the scientific literature) did not give the eccentric discoverers their due. Indeed, they often treated them with disdain.
In the course of developing his case, Conniff also takes us through the process and the individuals, from Linnaeus (and his predecessors) to the DNA researchers of the present, through which order has been brought to our understanding of the rich variety of flora and fauna with whom we share this earth.

So there you have it. If a few of the samples above strike your fancy, well, you know where to find us. Don't be a stranger.
Have you discovered

The Alexandria Project

?