I'm attending the Linux Foundations' first annual Linux Collaboration Summit from the Google campus in Mountainview California today and tomorrow, and will add periodically to this post as the day goes along.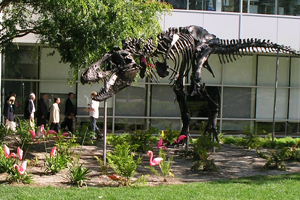 We're set up in one of the many Google buildings in what used to be the Silicon Graphics campus. As a result of its reinhabiting someone else's space, it's not quite as opulent as you might think from the reports one hears. There are plenty of accoutrements around to make the point, though, from what appear to be communal fleets of bikes that you can take from building to building, electric scooters, and the occasional corporate Segway tootling along or plugged into a wall socket. Strangely, though, it seemed as if a malign presence was always just outside, like some horrible monster from a cold and damp northwestern state. We could feel in our bones that it did not wish Linux well.
Be that as it may, at the Linux Foundation board meeting the day before all was quite cozy – we had Kobi steak garnished with lobster tail, so I assume that Google provided us with a typical recruiting lunch. Later, our collective mob will descend on one of the Google cafeterias, to sample the sushi bar and other selections. Together with the spectacular Silicon Valley weather and the funky accommodations at the Wild Palms Hotel where many of us are staying, it makes the East Coast scene feel pretty drab in comparison because, uh, well, I guess in comparison it's pretty drab.
Strangely, though, the Google wireless guest connection yesterday was not much faster than dial up; rather bizarre, given that they must own half the servers in the Free World now (and the Free World is a lot bigger than it used to be). Happily, the bandwidth seems to be much better today, which is a good thing, because besides the press I see Steve Walli and lots of other notorious bloggers in the room as well.
Things will be starting in about a half hour, and you can see the full program here. Jim Zemlin will be kicking things off with a keynote and some special effects that should loosen things up. I'll be moderating a legal issues panel this afternoon with Karen Copenhaver (Choate Hall), Mark Radcliffe (DLA Piper), Jason Wacha (MontaVista Software), McCoy Smith (Intel), and Abdy Raissinia (IBM). Not much to talk about, of course, other than Microsoft's recent patent challenge, the imminent release of the GPL3, trolls lurking in the bushes. We'll do our best anyway.
More soon…
Update: Jim Zemlin's keynote: Jim presents the new, combined message of the former Free Standards Group and Open Source Development Labs. That mission focuses on three elements: Promote, Protect and Standardize. That mission breaks down as follows at a high level:
Promote: Act as a neutral spokesperson for members; help accelerate development through multiple activities

Protect: Fund Linux and other; provide legal defense fund; initiatives to make the patent system work better

Standardize: Provide the tools to make applications easy to develop, and make Linux software a rewarding and safe investment for the customer.
…and also notes that the image the Linux community has of itself (running a video of the recent Novell which plays off the Apple PC/Mac ads, and ads an attractive young woman to represent Linux) may be, how to say delicately, somewhat different than the marketplace might have of the same folks (running a spoof video of his own, adding not a young woman but a geek in backpack, shorts, and scraggly beard making predictably geeky and counterproductive statements).
The message? Well, maybe we can't do much about the way we look, but we can do something about the way we act. If we present a united front and collaborate instead of squabble, the momentum will build and grow, taking to an ever-larger market share.
Update: State of Linux Kernel Roundtable Discussion — What's New with Core Development
Moderator — Jonathan Corbet, Editor, LWN.net
Andrew Morton, kernel maintainer

Chris Wright, kernel developer

James Bottomley, kernel developer

Ted Tso, kernel developer

Greg KH, kernel developer
As you might expect, the panel made it through about five minutes before people (especially people from the large pool of distro representatives in attendance) began to step to the microphones, and things became interactive. In response to a call for fewer bugs, Greg noted that 2800 lines of code are changed a day, and the total code continues to grow at an increasing rate. Necessarily, while efforts should be directed at making the bug rate decline, ultimately the user will remain part of the bug testing reality. The discussion led inevitably to the invocation of Linus's insightful observation that "The perfect is the enemy of the good."
That led rather elegantly to a question about improving power management – a timely question given yesterday's announcement of the Climate Savers Computing Intiative by companies such as IBM, Dell, Microsoft, Intel – and the Linux Foundation.
A question that I found particularly interesting was a request from the chair of the former FSG accessbility committee to have better screen reader support in Linux for the blind. Greg said that he'd love to bring this forward, but could use some help. To which the (blind) person asking the question fairly replied, "Great – please look for me, because I won't see you."
It also didn't take long for a question to be posed regarding the kernel developer's current opinion on migration to GPL3 – an obviously complex issue upon which there are many opinions, many ambiguities, and not a little emotion. It didn't take long to get down in the weeds over patches, mixed licensing, dual licensing, and so on. To (I trust) no one's surprise, a breakthrough was not achieved nor a decision made. As Eben Moglen has acknowledged, it makes sense for the kernel developers to see how the final GPL3 looks, to consider it carefully, and make the best decision taking as much time as they need.
The last question was posed by Jonathan, who noted the dramatically lower level of participation in development from Asia as there is from North America and Europe. Andrew ascribed it to the vendor mix (e.g., chips vs. servers) between these regions, while James noted the language barrier, which makes it difficult for equaltiy of participation – which was not to say that outreach should not continue (the Linux Foundation sponsors symposia there, for example). To date, however, those outreach efforts had not had the degree of effect that had been hoped.
Update: I see that Don Marti blogged on this panel in far greater detail here.
Update: State of Linux Roundtable discussion — Where are We Going? Where Have We Been? An Industry Perspective
Moderator: Jim Zemlin, Executive Director, The Linux Foundation
Panelists:
Christy Wyatt, Motorola
Chris DiBona, Google
Dan Frye, IBM
Jim teed things off with a few softball questions (e.g., "What's cool?" and directed towards how they can and do help open source). One self-serving question was "Why the LInux Foundation is important to them." Happily, Chris and Dan affirmed that LF is important to Google. Naturally, I liked Christy's answer best: "We see LF as the center of all things Linux." Great answer, Christy, although it's a reputation we've got to earn and justify from others as well. Christy also stated that Motorola expects 60% of its mobile devices to be on linux in the not too distant future- "We no longer talk about whether Linux will be successful in the mobile space…it's now about bringing ubiquity."
Dan stated that the challenge now is to bring the sales increasingly into the center from the fringe – and noted that the competition is brutal – part of the result of Linux becoming mainstream. "It's good clean fun out there!" Which inispired a question from the audience: "How does IBM deal with competition from Linux?" As it happens, a question that Dan was well-equipped to answer, as he manages AIX in addition to Linux (as well as other platforms). In essence, his answer was that it's not competition, but just a question of which product the customer wants, as they've got ways to make money regardless of the platform choice.
For Christy, Linux is becoming more important as mobile hardware becomes less of a differentiator. Instead, the software-generated user experience is rising in prominence (she didn't mention the iPhone by name, but clearly on June 29 her statement will become dramatically more relevant). A question immediately brought up the iPhone, however. She didn't quite do a 180 and retreat to hardware, but handled the question with a statement that the iPhone was "welcomed" by Motorola, but that the legacy players had certain advantages (e.g., established relationships with carriers) that would stand them in good stead.
James Bottomley challenged each of the three panelists to say what the top two things are that the community should do for them, and what the top two things were that they should do for the community. Chris included in his response that Google would like the kernel developers to do more directly in areas such as drivers that Google now has to do itself. Christy said that Motorola is looking for consistency that would allow compatibility of applications across mobile platforms in the Linux ecosystem.
In return, Motorola could help raise industry confidence in mobile Linux. Dan suggested that when GPL3 comes out that "Everybody just chill," rather than get into an instant twist. From the community, he also looked for "patience and persistence" in sorting the drivers situation out. Christy and Dan also looked for progress on power management. Chris echoed the belief that people shouldn't think that GPL2 must immediately be replaced, or, as he stated it, he admitted that "People hadn't realized that GPL2 was so perfect until work started on GPL3." I expect that we'll hear more on this (as well as divergent opinions) pretty soon, and particulary from the audience during the legal panel this afternoon.
Update: Cross Industry/Cross Distro Software Development: The Ubuntu Perspective
Keynote Address
Mark Shuttleworth, founder of Ubuntu
Mark, of course, is the successful startup entrepreneur from South Africa who spent some of his winnings, when he sold his first company in 1999, to go on holiday with the Russians into orbit, following which he founded Ubuntu. His perspective continues to be high-level and insightful, even at ground level (he is also a community representative on the Linux Foundatio Board).
Mark focused his comments on the conference theme – the need for collaboration, and for the need to stay out of the silos. Whether it be bugs, or patches, or whatever, broadening the field of participants, and the number of eyeballs, would serve all best. He gave many examples of subtle as well as more obvious ways in which barriers to collaboration are thrown up, and made a plea for greater awareness of these barriers and a commitment to break them down. He also applauded the Linux Foundation's efforts to create certification tests, and called for use of these tests to be integrated into the Linux software stack.
He offered various strategies for reducing friction points, and also highlighted the fact that increased coordination and collaboration would also decrease risks for all. Responding to a question, he believed that there was more to be gained than lost as a result of increasing "federation."
He closed with a call for greater acceptance of people's peers with differing opinions (i.e., "If you don't agree with me you're stupid and ugly"). Which I can heartily endorse. There are enough other people trying to eat our young without us doing so as well.
Update: Just back from lunch at one of the Google pleasure domes – so palatial and diverse in its gustatory offerings that our hosts felt it necessary to give us a floormap to guide us among the Indian, Mexican, Italian, and other offerings, not to mention the crepe (rum and pineapple) station, the ice cream, the braised rock cod, and so on that regale the palates of the Google employees on a daily basis – all free, of course. I wonder what the average weight gain is in the first month post-hire? Given that virtually everyone on campus looks to be less than 30, I expect that it's less of a problem for them than it would be for a middle-aged lawyer. Oh well, back to work, and the first post-prandial panel, which is:
How Do We Get More Apps on Linux? What are the Issues Facing Linux Application Development and How do we Solve Them?
Moderator: Dan Kohn, Chief Operating Officer, the Linux Foundation
Mike Milinkovich, Executive Director of the Eclipse Foundation
Darren Davis, Linux ISV Evangelist, Novell
Kay Tate, ISV Program Manager, IBM
Scott Nelson, Real Networks
Ed Costello, Adobe
Brian Aker, MySQL
And oh well, part two – Geeklog just decided to kick me out when I tried to save my notes on this panel, so I'll have to type in an abbreviated version by memory – later on, because my panel is on now and I've got to move up front.
Update: Some of the most interesting conversation on this panel had to do with the challenge of getting ISVs to certify their software. All the distros are already certified to the Linux Standards Base (LSB), as are the major apps, but the other 15,000 apps out their and the ISVs that support them aren't. It's the perrenial problem for operating system standards – how do you get high enought in the priorities of the ISVs to get them to port and certify across the certified interoperable platforms in your ecosystem?
My first consortium clients were all created to try and tackle that issue – 88open, PowerOpen and some others, each of which was grappling with the conundrum, "What if you gave an operating system and nobody came?" The good news here is that they're already there – there are plenty of Linux users. What's needed is for the ISVs to not only develop for Red Hat and/or Novell, but to develop in such away that any end user can load any distro and run any app. That's what we're working on, and a lot of the panelists gave their views on why and how that should happen.
The Legal Protection of Linux – Patents and Licensing, GPLv3 and the Future
Moderator: Andrew Updegrove, Partner, Gesmer Updegrove
Karen Copenhaver, Partner; Choate, Hall & Stewart
Mark Radcliffe, Partner; DLA Piper US, LLP
Jason Wacha, Vice President, Corp. Affairs; General Counsel, MontaVista Software
McCoy Smith, Senior Attorney, Intel Corporation
Abdy Raissinia, IBM
Surprisingly enough, we only got one question from the audience on GPL3, and that one was a softball. Much of our conversation functioned on whether or not lawyers (present company excluded) were capable of "getting" open source licenses (consensus: they're making progress); developers playing amateurs has produced some confusion, but also some amazing results that would never have happened otherwise; and the open source communities and standards communities need to get together, understand each other better, and get our collective act together.
Update: End Users and Linux: What Works, What Doesn't?
Moderator: Tim Golden, Bank of America
Jeremy Allison, Google
Randy Terbush, CTO of Infrastructure Architecture and Strategy at ADP
Chris Maresco, Olliance
End user panels are always rather enlightening, as they bring everything down to earth decisively. All the "they should" pontifications topple in favor of the rather brutal "what we actually do" realities, and often not comfortably. Each of the folks on this panel told it like it is, and on the whole, encouragingly. Jeremy, for example, related that Google makes it very easy for anything to be done on an open source basis where that approach makes sens, and Linux is used on a similar basis. Another real-world byte came from Randy, who noted that not all IT directors necessarily want to see their budgets drop dramatically through FOSS installations, as they might lose stature in the process.
Comparisons to Solaris, as expected, also came up, comparing the two alternatives from a cost/benefit point of view. Similarly, the types of concerns that are key to end users, but often not sufficiently heeded by developers were raised – make it easy for us – make it predictable for us – don't make it risky for us. Well, what would you want? An energetic comment from the audience was that end users should insist on a cessation of "twiddling" with code. The need to twiddle was acknowledged from the front of the room, as well as the need to find some mutually beneficial balance.
And this answer in reply to the question of "If you were Linux god for the day you would…?" "I'd like one certification point that all distros and all ISVs would certify to, all with support."
Update: How Do We Work Together as a Collaborative Community?
Jim Zemlin
Jim's wrap up was simply to to be a "seeker after truth" rather than someone looking only for contradictions, closing for the day with his thanks and directions for the evening's festivities.
Additional blog entries I've picked up so far via Google Alerts are here
For further blog entries on Open Source and Open Standards, click here
subscribe to the free Consortium Standards Bulletin