Have you discovered The Alexandria Project?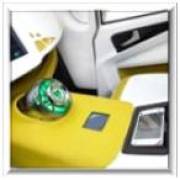 This week a new consortium was launched that may signal who will finally own the last great, unclaimed consumer computing platform – the automobile. The new organization is the Car Connectivity Consortium, and the winner is . . . well, we'll come back to that a little later. Suffice it to say for now that the fifteen year battle to control the digital future of the automobile could be at an end, and that its resolution may tell us something about the future of the digital desktop as well.
Let's start by setting the scene. The in-car computing system has been a focus of competitive jockeying ever since computer chips first found their way under the hood, and a lot of the elbowing has been about control. Would cars have a unitary operating system, and if so, would Microsoft or someone else control it? Would the automotive industry control this new opportunity, or would others (e.g., after market vendors) be permitted to share in the wealth? And so on.
At the highest level, there were two opportunities besides the internal IT workings of the vehicle itself: communications between the car and external, non-consumer services (maintenance, upgrades, crash avoidance, and so on), and communications involving the driver and passengers. The latter can again be broadly divided into two categories: communications between the person and the vehicle (entertainment, information, etc.) and between the person and the external world (Internet access, navigation, and so on).
It was the consumer side of the equation that spawned some of the most intense competition, in particular because the camps were so clearly divided: on the one hand, the automobile manufacturers, and on the other, the consumer electronics and computing firms. The car manufacturers saw the opportunity to "own" what came to be called the "telematics" market, perhaps charging for the services that they would provide to those that bought their cars and tying their customers to them more tightly, and the digital equipment vendors fearing that they would be relegated to the status of helpless followers.
Way back in 1998, I helped Motorola form a consortium called the Telematics Suppliers Consortium, which sought to counter balance the efforts of the automotive industry, which had just formed the Automotive Multimedia Interface Consortium (AMIC). In the press release announcing TSC, Motorola described telematics as "an emerging market of automotive communications technology that combines wireless voice and data to provide location-specific security and information services to drivers."
But while HP and AMP were co-founders, TSC failed to get traction. And so did AMIC.
By the end of 1999, only 80,000 cars actually had telematics capabilities (most of those cars had been sold by General Motors, which saw a big future for its "OnStar" system). But analysts were predicting a rapid expansion of digitally equipped vehicles, with 1.2 million expected to be rolling by 2003. GM hoped it would pull in $1.5 billion on OnStar revenues, priced at $25 per car per month.
Needless to say, the world has turned a few times on its axis between then and now. GM has been through bankruptcy, the concept of free Internet services has taken hold, and even the word "mobile" means something rather different than it did in the last millennium.
One thing that hasn't changed, though, is the need to develop more and more standards to realize the promise of the automotive platform. The consortia formed to address these opportunities proliferated appropriately, and you can find thirteen of them at the automotive sector section of my Consortium List, some global and others formed to further regional interests (e.g., in Europe). Technically, these organizations address everything from car to car communications
to
"infotainment" reference platforms, and much more besides
.
Not all of these organizations have flourished, and while many useful standards have been created to address specific needs, no in-car OS or consumer interface standard ever achieved dominance
.
Which brings us up the present, and to the announcement of the winner of the digital automotive environment, which is (cue the drum roll…
)
Or, to be more precise, the automotive platform proved not to be unique after all. In fact, it's proven to be irrelevant.
Instead, what we have evolved towards is a new and far more versatile mobile platform – the smartphone. Rather than becoming some kind of new desktop, the automobile has instead become the equivalent of a dumb terminal. And what the Car Connectivity Consortium is all about is enabling that dumb terminal to interact with its CPU – a mobile device.
The heart of the technical mission of the Car Connectivity Consortium resides in the "Terminal Mode" standard. As described by Nokia (a founder) in its
press release
, Terminal Mode compliant smartphones can become:
tightly connected with in-car systems such as digital displays, steering wheel buttons, rotary knobs and car audio systems. Consumers could use a mobile device via the car controls, as if the device and its apps were integrated into the car itself Terminal Mode is built upon a set of established standards such as Internet Protocol, Universal Serial Bus and Bluetooth.
The specification itself has been
under development for some time
, growing out of a
working group
set up by Nokia in conjunction with
CE4A
, another consortium effort launched in July of 2007 to create mobile device interfaces for automobiles. Now, Nokia is seeking to broaden the effort, and is launching a new consortium, with a broader membeship, to promote it.
The Nokia press release indicates that the Terminal Mode standard will be further extended (e.g., by incorporating Nearfield communications abilities), and that the founding members intend to launch a certification and branding program. Presumably the goal will be to build consumer demand for compliant devices and cars through developing a brand with name recognition in the manner of Bluetooth and WiFi
.
But after all of the false starts in the past, will the founders of the Car Connectivity Consortium find success?
There are several reasons to think that they may. First of all, the all-important founding member list includes (on the automotive side), Daimler, General Motors, Honda, Hyundai Motor Company, Toyota, and Volkswagen, meaning that many, although not all, of the largest car manufacturers are already involved (whether they are committed to actually implement the standards across their product lines remains to be seen).
Founding participation on the mobile device side is somewhat less convincing: only LG Electronics, Nokia and Samsung are mentioned. That's a good start, but while Apple, as usual, is standing aside, the absence of Motorola is notable. On the systems side, only Alpine and Panasonic are mentioned. As with all other new consortia, it will be worth watching what other big names do (and do not) join over the next twelve months.
W
hat I find to be most significant, though, is that the automobile manufacturers have evidently decided to take a major leap forward. Not only are they accepting the fact that they will not own their digital relationship with their passengers, but they are also eapfrogging many other industry sectors in realizing that their customers will expect their digital realities to live not on their desktop, but in their pockets.
The benefits for customers of such a vision could be huge. If the center of one's digital hub is a mobile device and everything else becomes a dumb terminal, then nuisances like synching multiple devices, paying for multiple Internet access plans and not having what you want when you want it disappear.
Still, why should the automotive sector buy in to this new paradigm?
As a matter of fact, there are quite a few good reasons. For one thing, cars last a lot longer than technology cycles, and it's much easier to upgrade the silicon of a mobile device than a chip embedded in a car. Moreover, the Terminal Mode model can hedge the manufacturers' bets against an alternative future based not on the size of a mobile device's flash drive, but on that device's access to the Cloud. In either case, the mobile device can be the customer interface that will have to change to adapt. True, the automotive manufacturers have had to give up any remaining hopes of tying customers to them via proprietary telematic systems, but customers weren't going to buy into that kind of world anyway – they simply wouldn't have bought proprietary vendor options and services – and perhaps the cars that offered them – at all.
At the end of the day, the automotive industry appears to have decided to take the classic standards route of adopting a standardized platform, and then preparing to compete on value-added features and services (some of the latter doubtless on a paid subscription basis). And not only car buyers, but their passengers will be able to interact with the vehicles as well.

Perhaps most importantly, car manufacturers won't have to compete for the attention of application developers. Instead, every app that will run on a mobile device should be able to run on a car's dashboard and seatback displays, assuming that the automotive manufacturer, and the Terminal Mode standard, do their parts. Absent this factor, it could be years, or never, before a given vendor could offer the kind of entertainment choices in its cars that its customers already get on their mobilt devices.

Will the same approach spread in other directions? Perhaps. Just this month, Motorola introduced a mobile device/dumb terminal notebook combo to appreciative reviews. The mobile device is the Android-based Atrix 4G, and it plugs into a loading dock with the screen, keypad, extended battery life and trackpad of a laptop – but no hard drive.

So perhaps it is that we have met the future, and that future is the past. Just as in the beginning, when a single minicomputer CPU would support many terminals, the mobile devices of tomorrow may drive many local systems – televisions, stereos, laptops – and cars. But this time, the entire computing environment will be driven by open standards, and more often than not, by open source software as well.
New Car Connectivity Consortium aims to put in-vehicle infotainment into high gear
Cross industry initiative: Leading automotive mobile communications and consumer electronics companies join a new consortium for in-vehicle connectivity solutions in standards such as Terminal Mode, NFC and more.
Espoo, Finland – The Car Connectivity Consortium was launched today by eleven companies across several industries, driving global innovation for in-vehicle connectivity, including the "Terminal Mode" standard.
Founding members include vehicle manufacturers Daimler, General Motors, Honda, Hyundai Motor Company, Toyota, and Volkswagen; system suppliers Alpine and Panasonic; and consumer electronics makers LG Electronics, Nokia and Samsung.
With the Terminal Mode standard, the connection of high-performing mobile devices to vehicle-based systems opens up a host of new opportunities for business and a world of innovative applications for consumers. Mobile devices could be tightly connected with in-car systems such as digital displays, steering wheel buttons, rotary knobs and car audio systems. Consumers could use a mobile device via the car controls, as if the device and its apps were integrated into the car itself Terminal Mode is built upon a set of established standards such as Internet Protocol, Universal Serial Bus and Bluetooth.
The Car Connectivity Consortium will focus on further developing the Terminal Mode standard, address certification and branding, and start looking at new promising opportunities for the automotive environment, including NFC and wireless charging. The Car Connectivity Consortium is an open alliance focusing on cross industry contribution. It is anticipated that further leading industry players will join over the coming weeks.
The Car Connectivity Consortium will release its first specification version within the next few months. Several consortium members are expected to present their first commercial products supporting the new standard later this year.
"Integrating smartphones in vehicles gives drivers a seamless connected lifestyle experience," said Thilo Koslowski, Vice President Automotive at Gartner. "The automotive industry will benefit from automotive-grade integration solutions that provide robust plug-and-play device connectivity across various brands, hardware and software, while offering safe and differentiated user experiences."
"Vehicles are evolving to be a 'living space,' with cutting-edge technology applied. But the life-cycle of built-in car AV system is difficult to match with such fast moving trends and developments in CE/IT products. As we all recognize, the latest mobile devices are equipped with fast internet access, smart features, and more content. And as 'Car Connectivity' technology has now emerged, we clearly see the customers' demands to use the features in Vehicles. LGE expects that the Car Connectivity Consortium can lead future Automotive and IT convergence technology," Said SeungHoon Lee, Vice President, Convergence Lab. at LG Electronics CTO Division.
"Nokia, together with NAVTEQ, understands that people want to use their smartphones everywhere including in their cars," said Floris van de Klashorst, Director and Head of Nokia Automotive at Nokia. "The Car Connectivity Consortium now has the power to turn Terminal Mode into the global standard for the integration of smartphones into vehicles, bringing together the exciting and innovating worlds of mobile ecosystems and applications and with the automotive industry. The industry support we received through the members has been excellent and makes Terminal Mode a truly global effort."
"Due to the wide consumer acceptance of smartphone and apps, Samsung expects that the smartphone will be the dominant hub for in-vehicle infotainment and connectivity. We believe that the smartphone, when connected with an in-car device, will play an important role in providing users with multimedia experience in the vehicle, and that Terminal Mode will be one of the key enabling technologies," said Dokyun Kim, Director, Product Strategy Team at Samsung Mobile Division.
About the Car Connectivity Consortium:
The Car Connectivity Consortium was founded under U.S. law as a limited liability corporation. Founding members are vehicle manufactures Daimler, General Motors, Honda, Hyundai Motor Company, Toyota, Volkswagen; system suppliers Alpine and Panasonic; and consumer electronics makers LG Electronics, Nokia and Samsung. The Car Connectivity Consortium is open for any industry member to join as a charter member, a core member or on one of two lower levels. For further information, please visit:
http://www.terminalmode.org/en/agenda/consortium/