Our story so far: At the end of an "interview" with a CIA agent, Frank realizes he may have become the prime suspect in the investigation of the ongoing hacking of Library of Congress. Now what? Read the first chapters here, and you can also follow the Further Adventures of Frank on Twitter.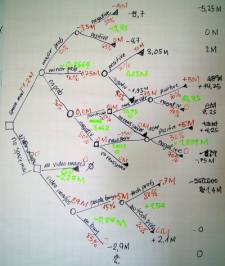 Frank struggled to organize his thoughts as he left the fiasco of an "interview" he'd just endured at the hands of CIA agent Carl Cummings. Time to be logical, he thought, not emotional. If he didn't start getting a hold of himself, at this rate he'd find himself in jail.

So what should be at the top of the decision tree, he asked as he walked back to his cubicle. Well, the first gate appeared to be whether Cummings really thought Frank was the culprit. If no, then Frank could relax, but if yes, then Frank could be in real trouble. Frank weighed the possibility that Carl was just jerking everyone around, to feel self-important. Negative, Frank decided. Everyone else thought the disappearing documents were part of a test, not a real exploit, and Carl would have wanted to keep it that way.

So that means I'm in trouble, Frank told himself. See? I'm making progress already.
Frank forced himself to focus. So what should the next question be? I guess that would be whether I should do anything, or not? "No" means just getting back to work. That, and trying harder not to do anything stupid.
But what does "yes" mean?
Frank settled back into his cubicle, and sorted through the few alternatives he could imagine. The only one that seemed to make any sense was for him to figure out who was stealing documents from the Library of Congress and turn them in. He pursued that thought next.
OK, let's assume for the moment I might actually eventually catch the bad guys. What's the next decision?
He decided the next question was whether that was a smart move, or another dumb one. After all, why not just let the powers that be muddle through?
That question had an easy answer: Because the powers that be are a bunch of bungling chowderheads when it came to security. Look at how often the government had been hacked already, and how infrequently it had gotten to the bottom of it. All they did was look more and more foolish each time it happened. Why would the CIA be any more successful this time than before?
Frank mused on that for awhile. Was that the end of the decision tree, or was there another logic gate he hadn't thought of yet?
Maybe, he thought. Let's assume that the Feds don't catch the cracker, and things just keep getting worse. Chairman Steele's Cybersecurity subcommittee is already out for blood. There will be hell to pay if an agency is forced to publicly report – as it now is – that it has not only been hacked, but that it's still being hacked by someone who leaves their animated calling card behind. And this at the same time it's supposed to be proposing a plan to make itself hack-proof!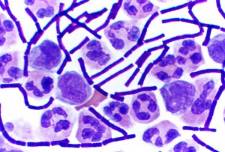 OK, but still so what? So what if the CIA never catches the wiley Alexandrians? If I just keep my nose clean, what can they do to me? Hell, it took the FBI seven years to find someone who even might have been behind the 9/11 Anthrax scare.
Except….Frank suddenly remembered that the authorities hadn't taken long at all to leak the name of a suspect who later turned out to be innocent. Frank found the guy's name in a few key strokes: Dr. Steven Hatfill.
The public had been screaming for the FBI to haul somebody in, but the case was almost impossible to solve. Leaking the name of a "person of interest" had been a neat way to take the heat off the FBI, because the media could be relied upon to take it from there. And so they had – the newspapers and cable shows had pounced on the poor S.O.B like the pack of jackals some of them were, and made his life hell. Hatfill had to spend a fortune in court before he was finally able to clear his name – seven years later.
Frank thought about that for a minute. Could that have been just an isolated incident, or was it standard practice? He tried Googling "terrorist scapegoat" and waited for the hits: 3,250,000. That didn't sound good.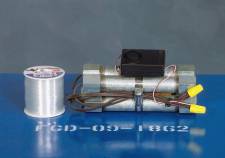 Frank remembered the guard who found the pipe bomb at the Atlanta, Georgia Summer Olympics and came to regret it, and decided to check him out. Sure enough, at first, he was hailed as a hero. Then, when the Feds couldn't find the bomber, they let it be known that the hero had become a "person of interest." What was his name?
Frank typed "Atlanta Olympics bomb" into Wikipedia, and there he was – Richard Jewell. Frank clicked on the link and read:

…Early news reports lauded Jewell as a hero, for helping to evacuate the area after he spotted the suspicious package. Three days later, The Atlanta Journal-Constitution revealed that the FBI was treating him as a possible suspect, based largely on a "lone bomber" criminal profile. http://en.wikipedia.org/wiki/Offender_profiling

Say what?! Where have I heard of criminal profiling before?

For the next several weeks, the news media focused aggressively on [Jewell] as the presumed culprit, sifting through his life to match a leaked "lone bomber" profile that the FBI had used. The media, to varying degrees, portrayed Jewell as a failed law enforcement officer who may have planted the bomb so he could find it and be a hero. Two of the bombing victims filed lawsuits against Jewell on the basis of this reporting….

Now that was really great, Frank thought. Maybe Agent Carl had used the Jewell profile as the starting point for what even Frank was starting to think of as his own psychological outline.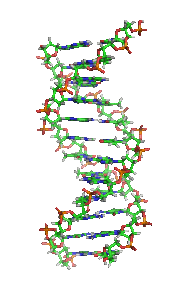 He sat back. The script seemed to be clear: if you can't catch the right guy quick, any convenient dolt will do if they match any halfway credible profile. Then leak his name to the press – or hey, let's say, a House subcommittee – and just relax. They'll take it from there.
Frank tried to tell himself he was just being paranoid. But if this was paranoia, how to explain all those "guilty man found innocent" stories that had been flooding the newspapers, now that DNA testing was so cheap? Just about every single con had been the victim of a tough, very public case and a lazy prosecutor. Only a lab test could save them.
Except there weren't any DNA tests to clear you if you were accused of stealing computer files. Matter of fact, there really wasn't any way to exonerate you, Frank realized – except by catching the real culprit.
"For Pete's sake, Frank, will you stop with the drumming!"
Frank looked down at his hands in surprise, catching them in mid-beat. He grabbed the edge of his desktop to make his digits behave.
"Sorry, Mitch," he called over the top of the cubical wall.
OK, he told himself. This is ridiculous. I'm panicking for no reason. Carl is probably just a hyperactive wannabe secret agent man making himself feel important. Get a grip, and just get back to work.
It was then that Frank noticed an almost imperceptible green flicker at the top of his laptop screen. As usual, his laptop was turned on and sitting next to his desktop computer. He stared at it and waited. Sure enough, there it was again. Someone was watching him using the video camera on his own computer!
Frank's eyes widened. How and when had his computer been compromised? Just about anytime, he realized. It was always lying out on his desk at work, and as often as not, even when he was at home he was logged on to the LOC system. It could have happened while he was trading jibes with Carl – or days ago.
Frank's head began to spin. What else had been placed on his computer? A keystroke logger recording every letter he typed? And had every site he had visited over the past week been tracked as well? And what kinds of sites had he been visiting?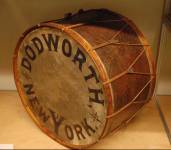 All kinds, he realized. Cracker sites. Security sites. Hell, he'd just now been looking up famous terrorist attacks on the Wikipedia. Anyone who needed a scapegoat could ignore 99% of the sites he'd visited in the last week and tie the rest as tight as you please back into that stupid, lame, profile.
For the second time that day, Frank broke out in a cold sweat. Whoever was attacking the LOC site was damn good. They'd left no tracks at all. Frank doubted the CIA would get to the bottom of this exploit, and Senator Steele's subcommittee meetings would resume in a week.
Well, that had finally brought him to the bottom of the decision tree, hadn't it? Yes, he decided, it certainly had. He shut down his laptop and his desktop, picked up his coat, and stood up.
"So – did you drum yourself out of here, Frank?" Mitch asked as he walked by.
Frank gave a dry laugh. "Yeah, Mitch. I guess that's a good way to put it."
– 0000 – 0001 – 0010 – 0011 – 0100 – 0011 – 0010 – 0001 – 0000 –
Want to help Frank out? Give me some input!
1. Ok, so are you bored or am I keeping you interested?
2. Should I continue with the technical stuff, or cut it back?
3. Is it time for Frank to just get a life, already, or does he intrigue you?
4. Who do you think is behind the Alexandria Project? (I'll answer honestly – but I won't guarantee it will help).
– 0000 – 0001 – 0010 – 0011 – 0100 – 0011 – 0010 – 0001 – 0000 –
Read the next chapter

Read the last chapter
Email this chapter to a friend
Follow Frank's Further Adventures here and on