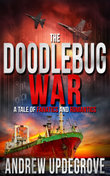 Yesterday was the big day – fifteen months after tapping out the first few words of my latest satirical, political, cybersecurity thriller, I uploaded the files for Frank Adversego's third world-saving adventure. This time around, the villains are an ISIS-like terrorist group that's been even more successful at gaining ground in the Mideast. Now they threaten to bring the Western world to its knees. Like the first two books, everything in the book is technically accurate and could actually happen. Frankly (no pun intended), this book scares the hell out of me. The reason? There seems to me to be little doubt that some day, perhaps as early as tomorrow, just such an attack will actually be launched.
But that's for another day. Right now, let me focus on the fun parts. Like the first two books, The Doodlebug War, a Tale of Fanatics and Romantics, is not only a suspenseful page turner, but a fun read as well, with quirky new characters, unexpected plot twists, and interesting backgrounds for the action. For those of you that have grown fond of our hero, Frank Adversego, you'll finally meet his ex-wife, learn the back history surrounding his failed marriage, and see how he finally comes to grip with that troubled period of his life. There's also a significant development in Marla's life.
But that's all by way of a bonus for dedicated followers. First time readers will find that the book stands on its own feet with no knowledge necessary of what's happened before.
If you enjoyed the first two books, or if your interest has finally been sufficiently piqued to see what Frank is all about, you can buy The Doodlebug War at Amazon in eBook form right now (the paperback version will appear at Amazon within a few days of this post). This link will take you to whatever national Amazon site you shop at: getBook.at/TheDoodlebugWar If you like to patronize your local book store, they can order the print copy for you as well.
As you may know, promoting a self-published book is a constant and difficult challenge. This week, the eBook version is sale-priced for only $0.99, so if you think you might want to read The Doodlebug War sometime, now would be an excellent time to score a copy on the cheap and help boost my Amazon ranking at the same time. And if you're willing to let your friends know that there's a great new release available, that would be greatly appreciated as well.
Thanks!