Have you discovered The Alexandria Project?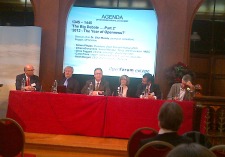 Last week I took something of a trip back through time. The transition began somewhere over the dark Atlantic, on my way to Brussels via Heathrow, when the person sitting next to me struck up a conversation. Improbably, I found myself discussing ODF – the OpenDocument Format – with a former Sun engineer who had followed the ODF–OOXML contest with great interest back in 2005 - 2007. I was sorry to tell him, and he was sorry to hear, that things had not gone so well in the years that followed, and that many of the bright hopes of those that had supported ODF remained to be realized.
The conversation set me thinking about how much of the energy that had surrounded open standards back then has faded from view in the U.S.
That's not the case in Europe, though, where the promise of openness in all things IT-related, including in open standards, remains a hot topic. Only a few weeks ago, for example, the EU Parliament voted to amend its regulations relating to the use of open standards, and these regulations will flow through to the member states as of January 1 of next year.
Shouldn't YOU discover the
The Alexandria Project?
A tale of Treachery and Technology
Read a few pages here
Buy at Amazon
Buy at iTunes Store
Buy at Barnes & Noble
The level of government interest in openness in Europe is what had me heading East – to participate in two conferences, one convened by
OpenForum Europe
and the other by
OpenForum Academy
.

The reasons for the enduring interest in openness on the Continent are several, but perhaps the most obvious one is that the European Union is not a long-settled federation like the United States, but a still evolving work in process. The result is that the relationship of nation to nation, and of nation to Union, remains very much in flux, and policy continues to evolve on a constant basis.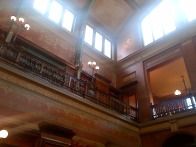 As a result, it's possible for a lightly funded organization like OpenForum Europe, an advocacy group promoting all things open, to invite policy makers to attend a day of presentations and discussions relating to all types of openness, and for many of those government servants to attend. This was the fourth annual Summit organized by OFE, and the second in a row where
Neelie Kroes
was the keynote speaker. The event was held in the elegant recesses of the Bibliotheque Solvay.

Ms Kroes, you may recall, is the Dutch member of the Peoples Party for Freedom and Democracy who, as European Commissioner for Competition, aggressively (and successfully) pursued multiple actions against multinational corporations, one of which resulted in the
payment of a €497 million fine
by Microsoft. She has regularly been named to the Forbes list of the 100 most powerful women in the world, and currently is the Commissioner for the Digital Agenda.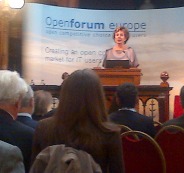 At the Summit, she left no question where her convictions lay when it comes to openness. Here is some of what
she had to say
:
Here's what I want to do.
I want to try out support for truly open, disruptive innovation in ICT….
It's no use supporting innovation with one hand if we strangle it with the other. For example current copyright restrictions often prevent innovations like data and text-mining; let's look at that….
And let's have a forum for new open communication between researchers and those they serve. An open and interactive process where innovators can stay in touch with society. Two-way communication: so scientists can show how they are contributing to society – and so they can make their research more coherent, responsible and relevant to society's needs….

Overall, I want us to systematically seek feedback on our initiatives. With peer review, right from early on in the process. "Co-designing" lets us check we have the right elements in place and will give us a more solid strategy.

And that fits in alongside our work on open science: with open access to the scientific results from all EU-funded research, and progressively opening access to the data, too….

Ladies and Gentlemen, I know from previous visits here at Open Forum Europe that you share my passion for openness online.I hope you can also see my passion for open, transformed ICT research and innovation.I hope you share that passion. And I hope you can support it.

If we invest better, we will innovate better, and we will build a better future. The world is changing: the way we innovate needs to change too.

Starting from now.
Given the Commissioner's record for effective action, I'll be following her new initiatives with great interest.
I helped kick off the Summit, along with OFE CEO Graham Taylor and Jerry Fishenden, Director of the Centre for Technology Policy Research. The jumping off point for our discussion was an article by a Gartner analyst questioning the feasibility and wisdom of governments pursuing openness policies. You can find the complete program and speakers
here
.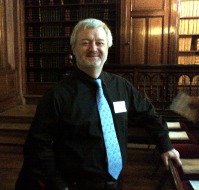 Other presenters with whom you my be familiar included Keith Bergelt, the CEO of the
Open Invention Network
, journalist
Glyn Moody
,
Simon Phipps
, who even wore a tie (!) for the occasion
(Simon is impossible to categorize, but his credits include serving as President of the Open Source Initiative

), and digital freedoms advocate
Carlo Piana
.
The day before, we had a meeting of the OpenForum Academy, an OFE affiliated think tank, of which I and many of the other speakers at the Summit are Fellows. The Academy brings together both academicians as well as real world practitioners to discuss openness related matters, and to produce research papers examining such issues. There are now 36 OFA Fellows. You can find the complete list
here
, and recommendations for additional Fellows are welcome.

The eight papers prepared for the meeting were bound and distributed to the Summit attendees, and you can download an
electronic copy
from the OFA site. (you can also order a bound copy
here
).
The jetlag aside of attending just two days of meetings in Belgium aside, it was a stimulating trip. For now, I'm back on this side of the pond, but I'll look forward to my next opportunity to engage on a European stage, and to trade ideas with the other OFA Fellows.