Have you discovered The Alexandria Project?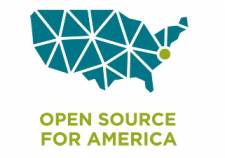 Last summer, a new organization was announced with the goal of promoting the uptake of open source software by the U.S. federal government. It's mission was described as follows:
The mission of OSA is to educate decision makers in the U.S. Federal government about the advantages of using free and open source software; to encourage the Federal agencies to give equal priority to procuring free and open source software in all of their procurement decisions; and generally provide an effective voice to the U.S. Federal government on behalf of the open source software community, private industry, academia, and other non-profits.
Now that organization has completed its first quite successful year of operations, and it's decided to celebrate that event by announcing an awards program to recognize those that have been most influential in advancing its goals.
I was pleased to have been invited to serve on the OSFA Board of Advisors, and If you haven't checked in on OSFA since you first heard about it, now would be a good time to do so. Its membership has increased from 70 to over 1,700, and perhaps you'd like to add your name to the list. Membership is free, and it's easy to sign up here.

Better yet, if you know someone who's contributions should be recognized, why don't you nominate them for one of the awards? It will only take a few moments of your time. You can find the awards categories and rules here, and the OSFA home page here.

Here is the announcement itself:

Open Source for America Inaugural Awards
Last week, Open Source for America celebrated its first year of championing the use of open source software in the U.S. government. We launched last July with 70 founding members, and our ranks have now swelled to more than 1,700. Over the past 12 months, the U.S. government has also made several key announcements that signal momentum toward the adoption and use of open source technologies — from the Department of Defense open source memo and the Whitehouse.gov open source platform migration last October to the Open Government Directive issued by President Obama in December.
To commemorate these milestones and our first anniversary, OSFA is launching an inaugural Open Source Awards Program. There are three award categories: Individual Contributor, Open Source Project and Open Source Deployment in Government.
Individual Contributor award will recognize one internal OSFA member and one external contributor who has made significant contributions in the promotion and use of open source solutions in the U.S. government during the past year.

The Open Source Project category will recognize an open source project that has shown promise and benefit for U.S. government use.

The Open Source Deployment in Government category will honor a U.S. government agency or body that has shown commitment to the use of open source, through policy and/or adoption.
Nominations are open to all OSFA members and will be accepted through Friday, Aug. 20, 2010 at www.opensourceforamerica.org/awards. We encourage all members to submit nominations and to spread the word about the awards program to colleagues, friends and others who are passionate about open source.
To find out more about the awards and for a list of rules and regulations, please visit www.opensourceforamerica.org/awards/rules.
Thanks for your support of Open Source for America over the past year and here's to many more years of continued success!
Check out the Alexandria Project Now