Economic downturns have a tendency to accelerate emerging technologies, boost the adoption of effective solutions, and punish solutions that are not cost competitive or that are out of synch with industry trends.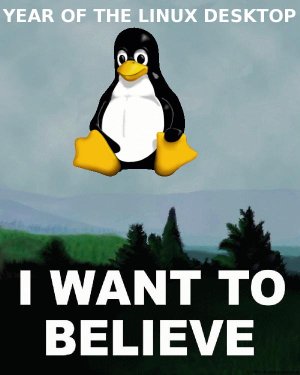 So begins a new white paper from research analyst IDC. History supports the logic of the statement, but applying the same logic to predict the future is a dangerous game. Having good starting data can help considerably in that regard, though, and that's what makes this report interesting. Its title is Linux Adoption in a Global Recession, and it marshals some impressive data to predict that Linux will be a significant gainer, while others are punished by the current global meltdown.
The report bases that conclusion in part on its finding that: "Linux users are clearly satisfied about their choice to deploy Linux, and during trying economic times, the potential for those same customers to ramp up their deployment of Linux is strong." In other words, unlike the last recession, in which the free OS had to establish itself in environments where it had never been deployed before (its market share increased dramatically anyway), this time it need only increase its beachhead among existing users in order to post impressive gains. But IDC predicts that it will also do quite well with new, missionary sales as well, promising that this time around, its competitive position should strengthen as well as broaden - including on the desktop.

Let's look at the facts first before taking a deeper dive into what the report has to offer.

Methodology: The IDC report was commissioned by Novell, the second most successful commercial distributor of Linux. The report states, however, that Novell did not participate in the selection of the respondents, and that the response sample was not limited to Novell customers. Also, only organizations with existing Linux deployments were surveyed (97% of the responding organizations, however, run Windows as well).
The 330 organizations surveyed were geographically dispersed, including Western Europe (78), the Americas (118) and Asia/Pacific (134), and also spanned multiple public and private market segments: Manufacturing (90), Financial services (80), Retail (80), Government (54, and "Other" (26), providing a broad sampling that in fact yielded a wide and interesting variation of responses on specific questions. The survey was conducted in February of this year, and therefore after the global financial crisis had an opportunity to have a meaningful impact on IT economic and architectural decision making.
High level conclusions: The summary opinions expressed in the report are very favorable to Linux, and include the following:
The expected long term duration and protracted recovery from the current recession will provide solid incentives for Linux expansion to occur and take hold, with the result that, "Linux is in a desirable competitive position to emerge from this downturn as a stronger solution with a key position in the industry."

North American IT managers are among those experiencing the greatest impact on their IT budgets.

The availability of more mature, sophisticated and commercially supported second generation Linux distributions based on the 2.6.x Kernel will provide greater incentives for deployment. Positive features include," more mature management tools, integrated virtualization, and virtualization-compatible use rights,…[as well as] a larger application portfolio and better interoperability with other mainstream corporate IT solutions."

The time may finally have arrived for Linux to make significant inroads on the desktop, fueled in part by the availability of rock-bottom price netbooks and cloud computing applications. IDC believes that emerging economies and, ironically, the effectiveness of Microsoft's efforts to staunch software piracy will make these customers particularly likely to pursue Linux client-side deployments.

The report's summary finding reads as follows:
Linux has enjoyed significant commercial success on server platforms, and today it is aptly categorized as the most widely available server operating system the industry has ever seen, with availability aboard every major architecture. Linux is also the operating system of choice for many cloud providers and ISVs delivering software appliances today.

One aspect of the report that I found to be particularly interesting was its propensity to look backwards as well as forwards in time, demonstrating how Linux had racked up gains in 2001-2002, and indicating those areas where IDC believes that Linux will be well-positioned to make particularly dramatic strides in the months to come. Virtualization is an example of such an area of opportunity, with 88% of the respondents indicating that they plan to "evaluate, deploy or increase their use of virtualization software within the Linux operating systems over the next 12-24 months."

I found the desktop data to be particularly noteworthy for two reasons, the first being that a full 50% of the organizations reporting "agreement or strong agreement" with the statement that they intend to accelerate their deployment of Linux on the desktop. IDC expects to see this trend prove out in the marketplace, based upon three trends it has been following: the increasing variety and appeal of netbooks, which play well with Linux; increasing attractiveness of Web-based applications, which lessen the need for a full desktop environment; and recession-driven price concerns.

The second reason I find progress on the desktop to be significant is that Microsoft was able to capture, and continues to dominate, the desktop in non-commercial settings in large part because it first conquered the enterprise. When workers thereafter began purchasing home computers, they were most likely to buy one with the same operating system and software they used at work. Once workers begin to use Linux and Linux-compatible applications at their office desks, they will be more likely to shop for price, rather than operating system, when they buy the increasingly diverse range of Internet-enabled devices that will populate our homes, automobiles, pockets and purses.

The report also includes a great deal of detail broken down by market niche and geography. These responses indicate that the most substantial Linux growth (example: look to the Asia/Pacific market for the most dramatic gains on both the client as well as the server side), and what features of a Linux installation business customers find to be of greatest importance (e.g., Security/reliability vs. acquisition cost). The answers across sectors vary more than you might think.
Challenges: The report (rightly) observes that Linux competes, "in a hostile marketplace against well-entrenched, well-respected competitors," and highlights several specific areas of challenges:
Not surprising, IDC places the continuing dominance of Windows at the head of the list. Notwithstanding the substantial inroads that Linux has made to date, IDC concludes that, "For many customers, Linux is not seen as a viable alternative to existing installed Windows solutions."

While server-side business application offerings continue to proliferate and improve, IDC notes that, "Linux application portfolio choices continue to be considerably more limited than Windows or Unix application portfolio choices." On the client side, while viable Windows-alternative personal productivity application choices exist, the same cannot be said for many other business application areas.


Significant expenditures on custom-developed applications will continue to hold back some customers, particularly Unix-based customers. Unless they can find a quick payback for a migration to Linux, IDC concludes, "the argument to 'stay the course' is hard to fight."
Opportunities: More optimistically, the report finds much for Linux advocates to look forward to, noting that, "Linux has been widely seen as heir apparent to meaningful portions of the platform opportunity during current and future generations of industry deployments." More specifically in the immediate future, IDC believes that Linux has the following "substantial opportunities:"

UNIX users should find it particularly appealing to replace existing systems with new Linux or x86 Unix systems, "an opportunity that Linux is well-positioned to win."

The price advantage of "nonpaid Linux," not surprisingly, should be particularly appealing. And, just as Unix-based customers with large numbers of legacy custom apps are not likely to switch OSs, existing users of free Linux distributions are more likely to upgrade or switch within the Linux family than jump to another OS.

IDC finds power in the "pervasiveness of Linux," noting that it has been ported to "virtually every modern computer architecture [making] Linux a standardization layer that offers both an attraction and a strong value proposition for customers." In some cases, the preexisting developer communities supporting these architectures have redirected their energies to supporting the new Linux port.

The continuing proliferation and sophisticiation of business applications, some of which are based upon a specific distribution (such as SUSE Linux Enterprise).


The appeal of software appliances that can be integrated into, "a traditional software stack into a single composite package…includ[ing] integrated life-cycle management, based upon, "a single stream of patches for the entire entity, thus reducing time and money spent on integrating disparate patches from different vendors."
Wrapping up: Given that there is little that any of us can do about the global economic disaster unfolding around us, it's comforting to find that at least some good can come from anything, no matter how dire and dour that anything may be. Hopefully, IDC's prophecy will prove true that out of the ashes of our current woes will come a brighter, and more open, future. Or, as IDC would phrase it, "The economic downturn of 2009 will be a demarcation line that is likely to highlight an acceleration toward adoption of standardized architecture across the industry."
I'd love to see a global economic rebound, but for now this will be good enough for me.
For further blog entries on Open Standards and Open Source click here

sign up for a free subscription to Standards Today today!
* * * * * * * * * * * * * * * * * * * * * * * * * * * * * *
IT Organizations Turn to Linux in Economic Downturn
WALTHAM, Mass.
16 Mar 2009
New global survey reveals more than half of participants plan to accelerate their adoption of Linux in 2009
Novell today announced that a recent market survey, conducted by IDC and sponsored by Novell, reveals a surge in the acquisition of Linux driven by the worldwide recession. As more and more businesses seek to cut costs and find value, they are drawn to the tremendous economies that Linux offers, with more than half of the IT executives surveyed planning to accelerate Linux adoption in 2009. In addition, more than 72 percent of respondents say they are either actively evaluating or have already decided to increase their adoption of Linux on the server in 2009, with more than 68 percent making the same claim for the desktop. The study surveyed more than 300 senior IT executives spanning manufacturing, financial services, and retail industries across the globe, as well as government agencies.
The survey revealed key drivers of the burgeoning interest in Linux. The number one motivation executives gave for migrating to Linux was economic and related to lowering ongoing support costs. As a consequence, more than 40 percent of survey participants said they plan to deploy additional workloads on Linux over the next 12-24 months and 49 percent indicated Linux will be their primary server platform within five years. Notably, however, those who are hesitant to adopt Linux cited lack of application support and poor interoperability with Windows and other environments as their primary concerns.
"The feedback gleaned from this market survey confirms our belief that, as organizations fight to cut costs and find value in this tough economic climate, Linux adoption will accelerate," said Markus Rex, general manager and senior vice president for Open Platform Solutions at Novell. "Companies also told us that strengthening Linux application support, interoperability, virtualization capabilities and technical support will all fuel adoption even more."
Additional key survey findings include:
67 percent of respondents stated that interoperability and manageability between Linux and Windows is one of the most important factors when choosing an operating system.

The retail industry showed the greatest potential for acceleration in Linux adoption with 63 percent of respondents planning an increase on the desktop and 69 percent considering the same on the server. The government sector lagged.

Almost 50 percent of respondents plan to accelerate adoption of Linux on the desktop, especially for basic office functions, technical workstation users, and higher education/K-12.

Nearly half of respondents stated that moving to virtualization is accelerating their adoption of Linux. Eighty-eight percent of recipients plan to evaluate, deploy or increase their use of virtualization software within Linux operating systems over the next 12-24 months

From a regional perspective, Asia/Pacific is the most bullish on increasing Linux adoption, as 73 percent of respondents said they would increase deployments on the server and 70 percent on the desktop. In the Americas, 66 percent of respondents said they are either evaluating or have already decided to increase adoption of Linux on the desktop and 67 percent on the server.

The economic crisis has had the biggest effect on the Americas, and in financial services and government. More than 62 percent of respondents said that their budget has been cut or that they are only investing where needed.
"Economic downturns have the tendency to accelerate emerging technologies, boost the adoption of effective solutions and punish solutions that are not cost competitive," said Al Gillen, program vice president, system software, IDC. "This survey confirms that Linux users view it favorably, and this view places Linux in a competitive position to emerge from this downturn as a stronger solution."
The research was conducted in February 2009 and polled more than 300 IT professionals with oversight on Linux and other operating system purchases for their views. Participating organizations had to have more than 100 employees; the survey was looking primarily for IT decision makers familiar with Linux usage and adoption plans. Among the survey participants, 55 percent had Linux server operating systems in use, 39 percent had Unix server operating systems in use, and 97 percent had Windows server operating systems in use. Typical respondents had titles such as CIO, VP IT, IT Director, IT Manager, IT Staff, and IT Consultant. Respondents were pre-screened via demographics screeners and completed the survey online. Novell was not involved in recruiting, and respondents did not need to be Novell customers.
An IDC white paper summarizing the survey findings can be found at http://www.novell.com/idc.