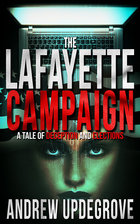 Well, it really is a great feeling to push that final "submit" button after you've uploaded the cover, the file, and all of the metadata and other information that Amazon asks for. And behold – only an hour later, my second book, titled The Lafayette Campaign, a Tale of Deception and Elections, magically appeared on line. What a great feeling.
Now, don't everyone just run out and order it at the same time. Well, ahem, on the other hand, who's stopping you?

As those who are long-time readers of this blog will recall, I began posting this book here one chapter at a time as I wrote it, just like its predecessor (The Alexandria Project). After posting about a dozen chapters, however, the demands of promoting the first book, plus working a full time job, plus being a family outran my ability to write a second book as well.

Sadly, I placed it aside. The timing remained inauspicious for a variety of personal reasons, and it was a couple of years before I tried to pick the project up again. When I did, it was in fits and starts, among other reasons because the plot was tieing me up in knots this time. Unlike the first book, there are multiple, closely interwoven story lines running simultaneously. Getting them all to work in a natural fashion was a Rubik Cube-like challenge that frequently left me puzzling for days at a time over how to concoct a way to connect the dots in a manner that wouldn't seem contrived.

Ultimately, it got down to a marathon effort this year that culminated this afternoon when I pressed that button, with as much a feeling of relief as accomplishment.
For the next few days it's available only in eBook form, but the print version should pop up at Amazon by early next week. For now, it will be available only at Amazon and in print form on order from your favorite bookstore, but later on you'll also be able to order it on Apple, Google, Kobo and elsewhere.

If you enjoyed The Alexandria Project, I do think that you'll enjoy The Lafayette Campaign as well. The plot focuses on the hacking of a presidential election, and as the book blurb you'll find at Amazon observes:

In this latest Frank Adversego thriller, you'll meet a scheming Native American casino manager, a scrum of presidential candidates too incredible to be believed anywhere outside of a real American election, a former Secretary of Defense who will stop at nothing, and an attractive French hitchhiker that Adversego rescues in the middle of a desert, and soon wishes he hadn't.
The Lafayette Campaign provides a satirical take on American politics and our infatuation with technology that will make readers pause and wonder: could this really happen?
Now it's time for me to once again turn my efforts to getting the word out and promoting The Lafayette Campaign. Any assistance that any of you might feel inclined to provide in furthering that worthy cause by spreading the word via your Facebook page or otherwise would, of course, be most sincerely appreciated. If you decide to give my book a read yourself, posting a brief review at Amazon would be very welcome indeed.
Finally, thanks to all of you that have provided encouragement and advice to me along the way. It's been greatly appreciated. Those that were kind enough to be beta readers will find that I have gratefully noted your assistance by name on the Acknowledgements page at the end of the book.