It's been fifteen years since the federal best practices standard for voting machines was last amended. During the intervening time we've seen Russian interference in the 2016 elections and allegations of fraud in the 2020 contest. Clearly, strong standards are needed to bolster both the integrity of voting machines as well as the public's confidence in their security. A new draft of the Voluntary Voting Systems Guidelines – the most used benchmark for voting equipment in the United States – is intended to address those needs. But, according to several articles (e.g., posted by the Bloomberg and the AP news services) that appeared in the week before the new Guidelines were to be adopted, a crucial change was made to the document that threatened to undermine both of these important goals.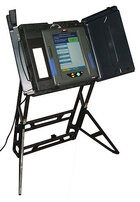 There's just one problem: according to the Election Assistance Commission (EAC), the body charged by Congress since 2002 with creating and maintaining strong voter security guidelines, there hadn't been any change at all to the proposed amendments previously posted for public comment – only a clarification. After the articles appeared, the EAC issued a detailed rebuttal supporting their case. That response, however, received less attention in the press.
Leaving aside the kerfuffle over timing, the question remains whether the revised Guidelines has a crucial flaw. The back story goes as follows.
Continue reading