It's been almost twenty years since ConsortiumInfo.org first went live, and eighteen since I posted my first Standards Blog entry (since then, the first two years of blog posts have mysteriously disappeared). It was a pretty humble offering back in 2002, as you can see from the screen capture below, modeled on what Yahoo looked like at first. Many things have changed since then, one of them being best practices in Web design, and not once but constantly.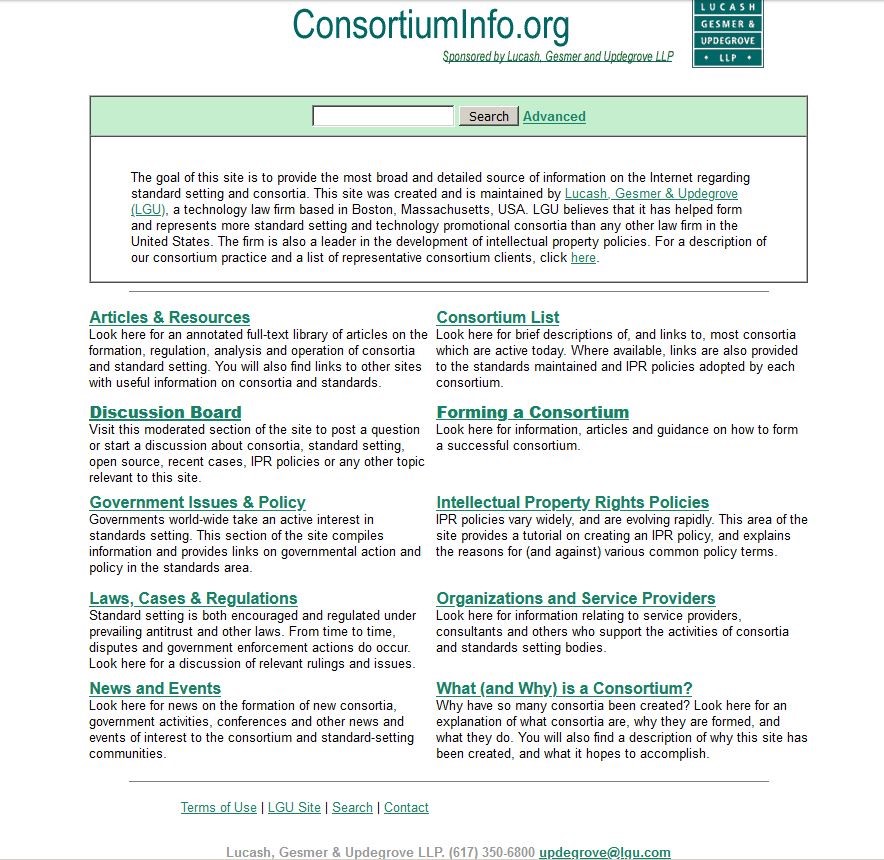 ConsortiumInfo.org received its last much-needed face lift about ten years ago, and once again that new look has become old. Behind the scenes, the site was becoming downright rickety, with many of its complicated and now-ancient Dreamweaver databases becoming progressively unstable, insecure, and tricky to maintain. Along the way, the original open source blogging program (Geeklog) lost much of its community support, and we switched to another open source platform: Drupal.
Today, of course, yet another open source offering – WordPress – has become the 900 pound gorilla of web design, supporting everything from single page personal blogs to The New York Times. So, like many other site owners, we took the plunge and converted to that platform, this time not just for the blog, but for the entire site, and for our firm site, Gesmer.com, as well. The process of moving over 750 blog entries, 76 issues of Standards Today, and two data bases – the Consortium List with over 1100 entries and the MetaLibrary with more than 1900, all extensively indexed and categorized – , not to mention much additional material, has been a long and complicated process.
But now that process is complete, and here you have it – the brand new, completely redesigned, au courant, 2021 reincarnation of ConsortiumInfo.org. We hope you find it as useful as before and easier to navigate than ever. Please visit often, and if you notice any glitches that that have evaded our watchful eyes, please do let us know.