Welcome to the sequel to The Alexandria Project, a cybersecurity thriller. If you'd like to read the book this series is based on, you can read the first three chapters for free here.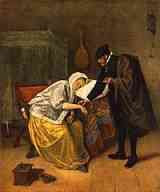 Frank was puffing his way up the dirt road leading away from the canyon rim, focusing on his breathing. He'd actually lost five pounds in the first week of his new regime, and had also progressed from walking fast to alternating walking with short bursts of labored jogging. The near-term goal he was now focusing on was to reach the point where his jogging interludes were longer than his walking ones.
He hadn't been as successful on the technical front. Despite the revelation that whatever had been interfering with data on his server hadn't affected the same data on his laptop, he was still struggling to figure out why. Worse, when he had tried the same exercise a second time, the data on his laptop did flip. But what had changed? Had he done something different the first time without realizing it, or was there a vital clue that he was missing?